NATIVE AMERICAN INDIAN COLLECTION
"I grew up in Arizona, hiking through the high country and majestic mountains of the Sonoran Desert. There I was surrounded by southwestern nature, wildlife, Indian culture and Native American artifacts.
Through this experience, I am honored and blessed to introduce my current collection, "Visions." Visions is a creation of oil paintings based on my beloved memories and personal experiences of living the western life.
© 2010 Cathee A. Clausen Fine Art
This creation of art began after I awoke from a deep sleep with visions of magnificent Indian chiefs before my eyes. The paintings were decorated with my signature strokes and filled with many of my vibrant hues. I knew this to be my "truth." The following morning I eagerly began work on my new collection.
Interlaced in these brush strokes are flashbacks from my childhood. My mother spent years teaching Apache children in a one-room schoolhouse on a reservation near East Fork in Arizona. I enjoyed weekends with my grandparents, sitting beside Grandpa as he recounted lively stories of the "Wild West" from his days in Globe, Ariz., at the turn of the last century. I also developed an appreciation of western plant life from my father, who dedicated his life to the study of western agriculture.
I also spent many months researching Native Americans, drawing much inspiration from the vast Native American collection at Chicago's Newberry Library. Artists such as E.A. Burbank, who rode by horseback to find and paint Native Americans live, particularly peaked my interest.
This collection is in progress. I look forward to sharing each piece with you." Cat Clausen
Bronze Vision
Oil on gallery wrapped linen, 24 x 36, AVAILABLE $4800. prints available.
Cheyenne
Oil on gallery wrapped linen, 18 x 24, AVAILABLE $2800. prints available.
Golden Shimmer
Oil on gallery wrapped linen, 24 x 48. AVAILABLE $6000. prints available.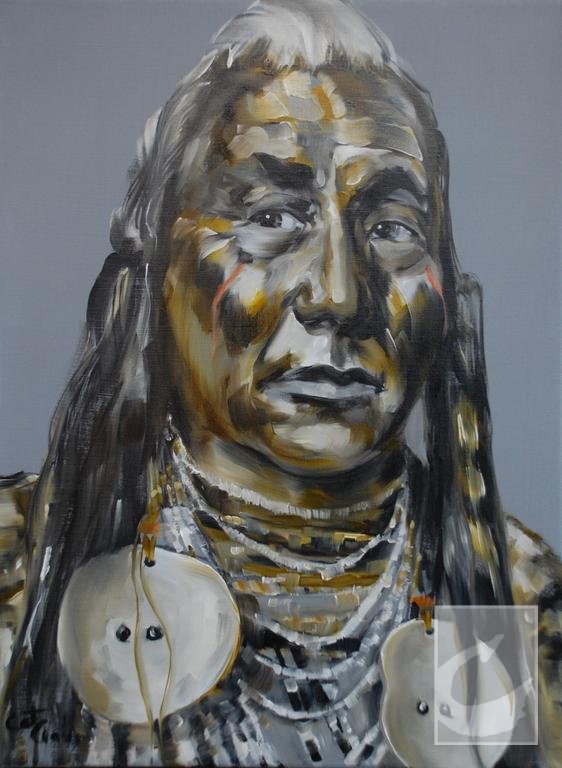 Two Stripes
Oil on gallery wrapped linen, 18 x 24, AVAILABLE $1500., prints available.
Horned Headdress
Oil on gallery wrapped linen; 38 x 48; AVAILABLE $7500; prints available.
Golden Gaze
Golden Gaze, 24" x 48" x 1.5", $6000.
Equestrian Dream
Oil on panel, SOLD, prints available.